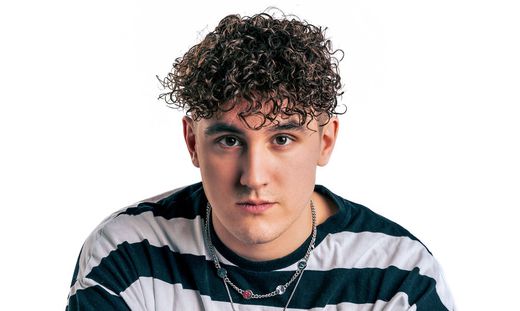 Chi è Lum!x?
Lum!x (O Lumix) è un disc jockey austriaco, rappresentante del suo paese all'Eurovision Song Contest 2022
Quanto è alto Lum!x? Quanto Pesa?
Non sono disponibili informazioni su altezza e peso di Lum!x
Lum!x – La Scheda
Vero Nome: Luca Michlmayr
Data di nascita: 2002
Età: 21 anni
Luogo di Nascita: Rohrbach-Berg
Segno Zodiacale: –
Altezza: –
Peso: –
Social: Instagram
Famiglia:
Relazioni:
Partner lavorativi:
Biografia
Lum!x (o Lumix) è lo pseudonimo scelto da Luca Michlmayr, nato nel 2002 a Rohrbach-Berg in Austria. Figlio di madre italiana, ha vissuto per alcuni anni a Torino.
Carriera
Lum!x inizia a pubblicare remix e le sue canzoni originali aprendo degli account Souncloud e Youtube a soli 11. Grazie a questa produzione viene notato dall'etichetta indipendente svedese Bounce United, e  pubblica con questa i suoi primi singoli nel 2018.
Nel 2019 il suo remix di Monster di Meg & Dia, che aveva pubblicato su Soundcloud nel 2017, è diventato virale e ha la possibilità di remixarlo lavorando con Gabry Ponte.  Monster ottiene due dischi di platino in Austria, e viene certificato disco di platino in Francia, Germania e Polonia. Inoltre, per bene 80 settimane mantiene la testa della classifica dei singoli in Germania, con un picco alla 20ª posizione,  diventando uno dei singoli più longevi nella storia della hit parade.
Nel 2020 ha remixato con D.T.E., Gabry Ponte e Mokaby la hit degli anni '70 di Iggy Pop The Passenger,  che viene rititolata: The Passenger (LaLaLa), con cui ottiene il suo terzo disco di platino dalla IFPI Austria.
Nell'estate del 2021 da una collaborazione con Orange Inc e Séb Mont nasce Champion, inno ufficiale del campionato europeo di League of Legends. Nello stesso anno insieme a Gabry Ponte e Prezioso produce la hit Thunder, con cui fa il suo primo ingresso nella classifica italiana.
Eurovision Song Contest 2022
Nel febbraio 2022 l'emittente radiotelevisiva pubblica ORF seleziona Lum!x come rappresentante austriaco all'Eurovision Song Contest 2022 a Torino, dove porterà il brano Halo con la partecipazione vocale di Pia Maria.
 Eurovision Song Contest 2022: tutti i nomi
Conduttori: Laura Pausini, Alessandro Cattelan, Mika
Albania: Ronela Hajati – Sekret
Armenia: Rosa Linn – Snap
Australia: Sheldon Riley – Not The Same
Austria: Lum!x ft Pia Maria – Halo
Azerbaijan: Nadir Rustamli – Fade To Black
Belgio: Jérémie Makiese – Miss You
Bulgaria: Intelligent Music Project – Intention
Croazia: Mia Dimšić – Guilty Pleasure
Cipro: Andromache – Ela
Repubblica Ceca: We Are Domi – Lights Off
Danimarca: REDDI – The Show
Estonia: Stefan – Hope
Finlandia: The Rasmus – Jezebel
Georgia: Circus Mircus – Lock Me In
Germania: Malik Harris – Rockstars
Grecia: Amanda Tenfjord – Die Together
Islanda: Sigga, Beta, Elìn – Með Hækkandi Sól
Irlanda: Brooke – That's Rich
Israele: Michael Ben-David – I.M
Italia: Mahmood & Blanco – Brividi
Lettonia: Citi Zēni – Eat Your Salad
Lituania: Monika Liu – Sentimental
Malta: Emma Muscat – I Am What I Am
Moldavia: Zdob şi Zdub & Fraţii Advahov – Trenulețul
Montenegro: Vladana – Breathe
Olanda: S10 – De Diepte
Macedonia del Nord: Andrea – Circles
Norvegia: Subwoolfer – Give That Wolf A Banana
Polonia: Ochman – River
Portogallo: Maro – Saudade Saudade
Romania: WRS – Llámame
San Marino: Achille Lauro – Stripper
Serbia: Konstrakta – In Corpore Sano
Slovenia: LPS (Last Pizza Slice) – Disko
Spagna: Chanel – SloMo
Svezia: Cornelia Jakobs – Hold Me Closer
Svizzera: Marius Bear – Boys Do Cry
Ucraina: Kalush Orchestra – Stefania
Regno Unito: Sam Ryder – Space Man
Lum!x e Pia Maria – testo Halo (Eurovision version)
Let me be your halo
'Cause we've been through hell and back in only one night
Let me be your halo
'Cause heaven can't wait for us to finish the fight
We don't need a Hercules to bring a man down to his knees
No more apologies
Philosophers like Socrates said find yourself, think on your feet
Go sharpen your teeth
We can be CEOs
Yeah, you already know
Yeah, we can be the boss
Fly higher than the Gods
We're not under control
And no, no, not anymore
If you feel me, then put your hands up
Let me be your halo
'Cause we've been through hell and back in only one night
Let me be your halo
'Cause heaven can't wait for us to finish the fight
And I'm stronger than angels
I'm fearless in danger
And I
will
bring dark to the light
Let me be your halo
'Cause we've been through hell and back in only one night
I think I had the right idea
Beautiful, something to feel
For a hundred years
We're gonna be written among the stars
Posing so we're hustling young queens
We can be CEOs
Yeah, you already know
Yeah, we can be the boss
Fly higher than the Gods
We're not under control
And no, no, not anymore
If you feel me, then put your hands up
Let me be your halo
'Cause we've been through hell and back in only one night
Let me be your halo
'Cause heaven can't wait for us to finish the fight
And I'm stronger than angels
I'm fearless in danger
And I will bring dark to the light
Let me be your halo
'Cause we've been through hell and back in only one night
La-la-la-la-la-la
La-la-la-la-la-la
La-la-la-la-la-la
La-la-la-la-la-la
Don't need no
La-la-la-la-la
La-la-la-la-la-la
La-la-la-la-la-la
La-la-la-la-la-la
Let me be your halo
'Cause we've been through hell and back in only one night
Let me be your halo
'Cause heaven can't wait for us to finish the fight
And I'm stronger than angels
I'm fearless in danger
And I will bring dark to the light
Let me be your halo
'Cause we've been through hell and back in only one night
Lum!x Instagram